What is a Privacy Policy?
A Privacy Policy is a legal document outlining how your organization collects, uses, and discloses personal information.
A properly written Privacy Policy tells customers what data you collect about them when they engage with your business (e.g., through your website) or purchase one of your products/services, and why you're collecting that information. It also lets people know how long their information will be stored, who can access these records and more.
In today's business world, companies depend heavily on data and information derived from it. Indeed, information is essential for all company employees, from the top executives to the operations level.
Protecting data, especially private, personal information, is crucial in a complex world where so much depends upon it. The most important step for business owners to protect their customers' data is to create a concise and transparent Privacy Policy.
So, a good Privacy Policy should outline what data is being collected and explain why you're collecting it, who has access to it, and the time frame during which you plan to store it. It should also include any third parties with whom your company shares personal or private information, as well as any steps taken to ensure the security of such information.
A Privacy Policy is Required by Law
Privacy Policies are required by law to be posted on your website. You may be required to include specific clauses in your Privacy Policy, depending on the applicable laws within your area or where you are conducting business.
In fact, privacy laws are in place in many countries around the globe, including the following:
Third Party Services Require a Privacy Policy
Many third-party services that you use to improve your website's user experience, monitor analytics, or display ads require you to post a Privacy Policy.
You should provide clauses detailing how you use third-party services, APIs and SDKs.
Just some of the most popular third-party services, which require you to post a Privacy Policy are:
A few of the reasons these third-party services require you to post a Privacy Policy and disclose your usage of their cookies and services are due to the fact that they place cookies on your visitors' computers. They also collect information about them whenever they visit your site, such as their browsing habits, the device used, and so on.
Always be Transparent in Your Privacy Policy
A transparent and complete Privacy Policy agreement, which explains exactly what information a company collects and how it uses that information, inspires trust in a business.
Trust is essential for companies whose business models are based on sensitive customer data. Users feel secure knowing they have control over their personal information under the terms they signed up for.
Your Privacy Policy should explain to your users how your app or website handles personal data. Your users should also be aware of the reasons for collecting information and how long they will be kept on your servers.
You must disclose even if you do not collect any personal information. Because users expect transparency, it helps to have a Privacy Policy. Users may believe that you are collecting too much personal information and not disclosing any.
The SwissCows search engine doesn't track or store user searches. Its Privacy Policy says that it only collects the data that is necessary to provide its services and stores it in an anonymized way:

Conduct a privacy audit to ensure transparency and accuracy in your Privacy Policy. This will enable you to determine your business's privacy practices and what information you must disclose to your users through an appropriately transparent Privacy Policy.
What Should You Include in Your Privacy Policy
Your Privacy Policy should be structured to make it easy for the reader to understand essential information. You can achieve this by using well-structured, clearly written clauses that are clearly identified with descriptive headlines.
Your Privacy Policy will contain a variety of clauses depending on your business type and applicable law. Accordingly, there are certain clauses that every website, which collects personal data from visitors, should include in their Privacy Policies.
With that in mind, let's take a look at what you should include in your Privacy Policy.
What information do you collect?
Letting your website's visitors know what information you collect is an essential part of any Privacy Policy. This clause is crucial to let your users know from the beginning if you intend to collect data that they are comfortable sharing.
For instance, a website could use a registration form to collect an individual's email address, which the company then adds to its mailing list. This is very different from an app that collects all kinds of personal data, such as name, address, payment information, and location.
The point here is that there is a worldwide consensus that users have the right to know exactly what kind of data you collect.
Here's how TikTok lets users know what kinds of information it uses and collects: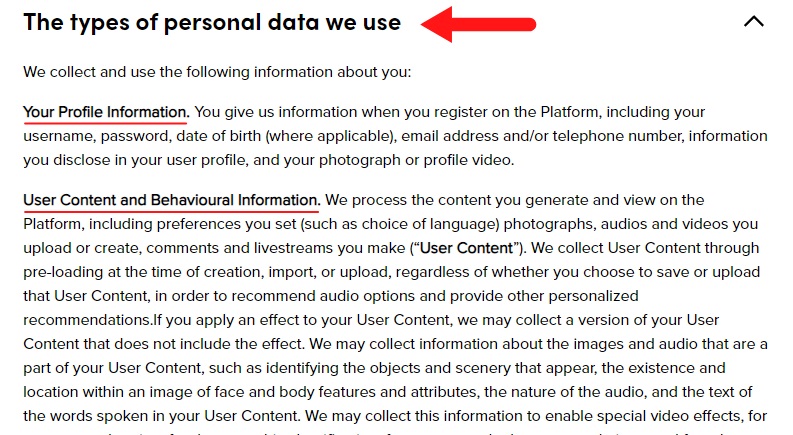 You must also keep in mind that privacy laws generally stipulate that you may only collect personal information if necessary to offer the services you provide.